Visits, Walks and Talks

Summer is a comin' in...

..... with two delightful domestic gardens to enjoy in the coming months, both planned and planted by their garden-designer owners.

It's always a treat for a garden designer to be able to start with a blank canvas. That's exactly what happened to John Clowes when he and his wife Linda bought a farm house in Holmes Chapel over 30 years ago. John and Linda have transformed farmland into an impressive domestic garden which we will be able to enjoy in June.

As an added bonus, we will also be visiting Dane Meadow - a 7 hectare area of land to the north of Holmes Chapel within the Dane Valley. It is an unspoilt, natural environment which has been made more accessible to all. A guided walk will be led by CGT member, Christine Wilcox-Baker who was involved in the regeneration project.

In August, we visit another farm that has been transformed into a gorgeous garden by owner and garden designer Wendy Platt and her husband Howard. Laskey Farm in Thelwell dates to the mid 1700's and operated as a working farm until the 1950's. As well as extensive herbaceous borders, lawns and roses, the garden has a chain of five ponds interconnected with streams.

And between these two visits, we are delighted that Professor John Handley will lead a walk around Lindow Moss, a fascinating and historic peatland, home of 'Lindow Man' (aka Pete Marsh). Those of you who were at John's talk in November will know that he is an authority on Cheshire's landscape and geology. Bring a picnic to enjoy on the Moss afterwards.

In September, we are hoping to run the postponed Ferns Workshop at Henbury Hall which we unfortunately had to cancel.


And why not add to your enjoyment by getting involved...?

If you'd like to get more involved and help organise an event - or simply want to share your ideas - please do get in touch. Short reports for the Newsletter about a visit or lecture you've attended are very welcome. We hope there is something here to interest you and look forward to seeing you at one of our events soon.





Saturday 15th July, 10 am - 1 pm

'Lindow Moss - the making of a landscape' A guided walk around historic peatland with Professor John Handley
Meet at the car park opposite the Boddington Arms, Racecourse Rd, Wilmslow, SK9 5LR
Lindow Moss
is a raised mire peat bog, its origins dating back to the last Ice Age. Traces of ancient Britons have been located in the area whilst the Celts would possibly have settled here - maybe taking refuge from invading Romans. 'Lindow Man', whose body was found in 1984 is believed to have lived in this era. In the 15
th
and 16
th
centuries, the landless and poor would have been forced to live as 'Bog Warriors' on this unpromising land. More recently, peat has been excavated commercially which has had a further impact on the landscape.
On our walk Professor John Handley will reveal the traces of this history still visible in this fragile and fascinating landscape. Those of us who came to John's talk on the Cheshire landscape last November anticipate this event with relish - as we know what an extraordinary fund of knowledge he has to offer.
For instance, did you know that:
*It takes approximately 100 years to create one metre of peat.
*Lindow Peat Bog goes to a depth of about 30 metres and is a perfect carbon record of that environment over the last 4-5,000 years.
*Lindow Man (a.k.a. Pete Marsh) was found on April 19, 1984 and was dated to 200AD, since then excavations have gone deeper and have currently exposed a Bronze Age forest where tree roots face upwards.
*The bog started life as a Scot's pine forest and was 'drowned' by a rising water table which eventually receded leaving an acidic environment which turned to moss then to peat.
*Peat bogs store Carbon Dioxide and are a very useful tool against the Greenhouse Effect.
Stout footwear advisable
. Please bring your own refreshment - or take advantage of local hostelries.
Numbers will be limited to 25 for this event, so please book early to ensure your place


BOOKING FOR THIS EVENT OPENS IN MAY
Download PDF booking form
Wednesday 16th August, 5.30 PM

Evening Visit to the Gardens at Laskey Farm - Introductory talk and guided tour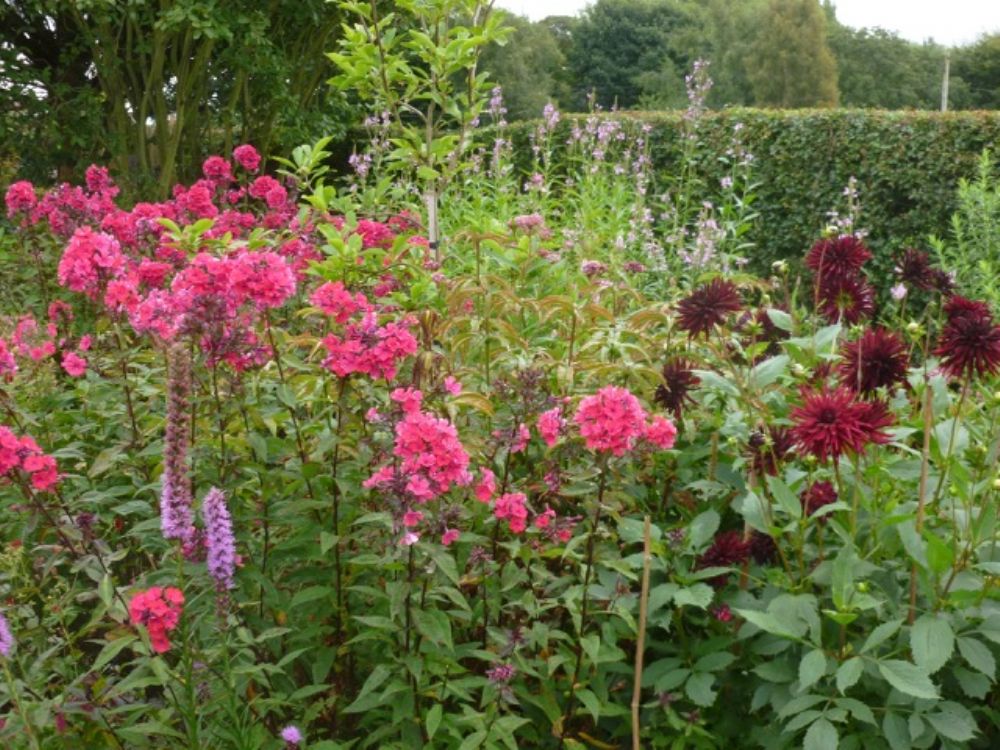 Laskey Farm, Laskey Lane, Thelwall, Warrington, WA4 2TF
A spectacular garden packed with late summer colour including herbaceous and rose borders, vegetable area, parterre and a maze showcasing grasses and prairie style planting.
Laskey Farm (originally a working farm owned by the Platt family) was purchased by Howard and Wendy Platt in 1996. The 1.5 acre garden has been designed and developed by Reaseheath alumni Wendy Platt. There are rose beds, vegetable and fruit cages, a parterre, a greenhouse with a small collection of pelargoniums and tropical plants, shrubs and trees and herbaceous borders which provide magnificent late summer colour. In 2014 the former football pitch was converted into a series of flower beds and geometrically shaped lawn areas.
The main water garden consists of five interconnected ponds: terrapin pond, wildlife pond, courtyard pond and main swimming pool (which is shared with several varieties of fish). Wendy Platt and her friend/business partner Christine Purslow run the landscaping company Secateur Sisters Garden Design.
Wendy will talk about how the farm and garden have evolved and give us a guided tour round the garden. We will then have tea with tea/coffee, nibbles/sandwiches and home made cakes.
Numbers will be limited to 40 for this event, so please book early to ensure your place
BOOKING FOR THIS EVENT OPENS IN MAY
Important: The closing date for postal bookings is Saturday 5 August. After this date, bookings can only be made by e-mail.
Download PDF booking form